Events – Stonyford Cottage Gardens 2020
Sunday 10th May 2020  (11am-4pm)



All garden entry proceeds go to charity  £4.50pp (children free)

Thanks to the generosity of garden owners, volunteers and visitors, the National Garden Scheme has donated £55 million to charity since 1927.
Originally set up to support district nurses, the National Garden Scheme is now the largest single funder of nursing and caring charities in the UK. We also support charities doing amazing work in gardens and health, grant bursaries to help community gardening projects and support gardeners at the start of their career.
This is a wonderful day and perfect for those who love the natural beauty of gardens.  We have plenty of areas for those of you who wish to sit & relax whilst soaking in the natural ambience of Stonyford, as well as a delightful tea room serving freshly baked cakes & snacks with adequate indoor & outdoor seating.
We have a varied list of music being performed on piano which adds to the atmosphere.
And for those of you who wish to purchase any of your favourite plants whilst visiting, we also have a well stocked plant nursery adjacent to the gardens.
Stonyford Plant Fairs
B/H Monday 25th May  – Plant Fair  (10am-4pm)
B/H Monday 31st August – Plant Fair (10am-4pm)
A Plant lovers Dream !
We will have a great selection of specialist plant growers onsite.  Plant nurseries from around the country selling unusual and rare plants.  Hardy perennials, Alpines, Shrubs and exotics.  Including Carnivorous plants.  free entry to plant fair.
Don't miss out of this great event – Lots of great buys to be had 🙂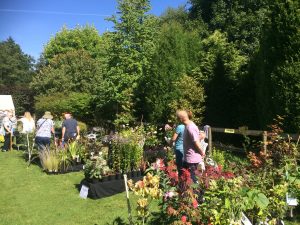 Open Air Theatre productions 2020:
Please click on this link for more details : Open Air Theatre Stonyford Cottage Gardens
 Tuesday 11th & Wednesday 12th August  2020   
Shakespeare's 'All's Well that Ends Well"
Performance starts 7pm