Group Bookings & Tours are very welcome, and we ask that you give us a call or email to book in advance so we can give you our full attention for your visit.
We are now taking 2019 group bookings for our ever popular Garden tour of Stonyford Cottage Gardens.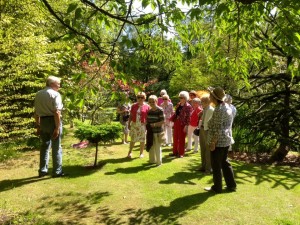 Group Booking & Tour prices for 2020:
The guided tour of Stonyford Cottage Gardens, lasts about 45 minutes – 1hr and includes background knowledge of how the gardens were created with detailed information about many of the plants on display, whilst being guided around the woodland island, beautiful walkways, English cottage garden and water features. We also have a garden nursery & cosy Tea Room with plenty of indoor & outdoor seating, which will be open throughout the visit.Our most popular package consists of:
Garden entry and Garden tour (45min), Hot lunch and a delicious home-made cake served with tea or coffee  – £16.00 pp
The garden tour can be before or after lunch dependent on arrival time.  Guests can then relax in our delightful tea room or marquee (for larger groups) while enjoying their lunch & cake and afterwards wander around the gardens & plant nursery at their own leisure.
Lunch includes:
Home baked quiche or  Jacket Potato with choice of filling all served with salad & accompaniments
followed by own special home-made scones with fresh cream & jam all served with Tea or Coffee
If you want to split the lunch & cream tea – then there is an extra charge of £1.50pp for a second serving of tea/coffee.
or  you can choose our
Cream Tea option only which includes: Garden Entry plus Guided Tour, Cream Tea (delicious home baked scones with cream & jam served with your choice of tea / coffee) £9.50pp
To Book, please use the form below or Call (01606) 888970
Please provide details of your group including intended date, time of arrival, group size and package options. Any questions and requests for more information are welcome.